🌱 Death is the source of life
What would happen to women if they mined the moon?
Evening,
You know it's a good day when you realize that the secrets of life are hidden within a clump of compost. In this week's newsletter, read how one man's search for meaning turned into a powerful and accessible climate solution.
🗞️ In Climate News
.📈 Cool Trends
Thanks for reading eco-nnect ! Subscribe for free to receive new posts and support our work.
♾️ eco-stories
Michael Kennard is an energetic being. He says he is shy, conscious that his worldview differs from what many call "the norm", but when speaking, if you touch on a topic he is interested in, his passion is palpable. As a child people described him as very small yet very loud, "I would get excited, and would often get in trouble for talking in class." So he tried to subdue this part of himself and adopted the behaviours of the community and culture that surrounded him. He was a good student without truly applying himself, unsure of the direction he wanted to follow. After high school, he drifted between jobs, "I worked in a gym, a leisure centre, I worked in retail, I didn't have any sense of direction really, I played video games a bit, I socialised a bit." He eventually found a job as his dad's apprentice, becoming an electrician. "We drove up to London every day from Brighton, we worked on advertising billboards around London, sometimes in other parts of the country, sometimes as far as Scotland, but day to day we were putting lights in metal boxes to light up these canvases at night that say watch this film or buy this rubbish… When I look back now, I was kind of on autopilot or sleepwalking through life, it was like you get a job, you rent a flat, you get these things, you get a car, and you get married."
💩 WTF? news
🌏 The Culture Club
🎧 What we're listening to: No Till Market Garden, Podcast by Elaine Ingham
📸 Profile of the week: @compost.club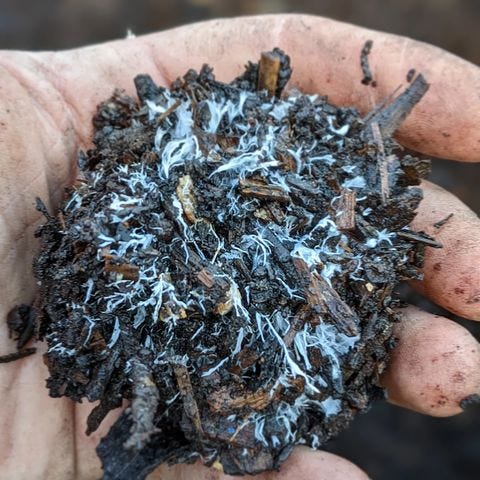 📚What we're reading: The Lost Book of Herbal Remedies, by Nicole Apelian and Claude Davis
🤯 Fun fact we learnt this week: Compost can be used to heat greenhouses and houses.
Thanks for reading eco-nnect ! Subscribe for free to receive new posts and support our work.