Discover more from eco-nnect
creating stories with nature 🌱♾️✨
Over 3,000 subscribers
Indigenous Sovereignty: the contention of Marco Temporal
Heatwave scorches Europe, China and USA
Dear earthlings,
About a month ago we shared a campaign we worked on regarding the Marco Temporal bill in Brazil. Now we bring you a deep dive into understanding what is going on and how we got here.
Amidst intense climate news, we invite you not to despair, and instead join together, remember people have the power.

🗞️ In Climate News
Thanks for reading eco-nnect ! Subscribe for free to receive new posts and support our work.
📈 Cool Trends
♾️ eco-stories
Raposa-Serra do Sol, in the State of Roraima, in the north of Brazil, is a network of biomes locally known as lavrado. In this region, the lavrado encompass grasslands, steppe savannas, shrubs and patches of small forest, which are part of a delicate interconnected network of ecosystems that nourish and support what is often referred to as the Amazon. These ecosystems are sustained by a mostly humid climate, with two clear seasons: the wet from April to November; and the dry from December to March. During the wet months, seasonal lakes appear that connect to larger rivers, watercourses that act as barriers against fire. In dry years, during El Niño events, these once watery channels become corridors of fire.
Lavrados are largely protected in Brazil due to the demarcation of Indigenous territories — which encompass more than 46 percent of Roraima State — including Raposa-Serra do Sol, the Land of the Fox and Mountain of the Sun, which covers more than 1.7 million hectares. Raposa-Serra do Sol was signed into Brazilian law by President Luis Inácio Lula da Silva on April 15 2005. The land is along the border with Venezuela and Guyana, and is the home to approximately 58,000 inhabitants from nine different Indigenous communities: Macuxi, Wapichana, Taurepang, Ingarikó, Wai-Wai, Yanomami, Ye'kuana, Patamona, and Sapará. The way of life of these communities is focused on their environment, where they hunt, farm and fish.
🌏 The Culture Club
📺 What we're watching:Plastic Warriors
📸 Profile of the week: @midiaindigena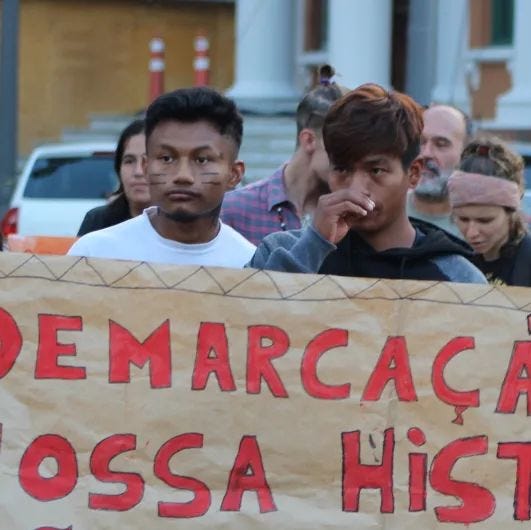 Mídia Indígena on Instagram: "Hoje 7/06/2023
Os povos indígenas estiveram mobilizados, em todo o país, para dizer NÃO ao marco temporal. ✊🏾
Inclusive em Porto Alegre (RS), indígenas Kaingang, Guarani Mbya, Laklãnõ-Xokleng ocuparam as ruas centrais da cidade contra a tese anti-indígena que está sendo julgada no Supremo Tribunal Federal (STF). As delegações indígenas concentraram-se no final da manhã no Largo Glênio Peres, em frente ao Mercado Público, e seguiram para a Esquina Democrática. ⚖️🌿 O pedido é que a Suprema Corte e a população respeitem o que diz a Constituição Federal, assegurando aos povos indígenas o direito originário sobre seus territórios.
#MarcoTemporalN
ão
#Demarca
çãoJá
#Emerg
ênciaIndígena
#VidasInd
ígenasImportam
#NossoDireito
ÉOriginário 📷
@vheraxunu.oficial
"
📚 What we're reading: The Falling Sky, Davi Kopenawa and Bruce Albert
🤯 Scary fact we learnt this week: More than 61,000 died last year in Europe due to the 2022 heatwave.
Thanks for reading eco-nnect ! Subscribe for free to receive new posts and support our work.