Discover more from eco-nnect
creating stories with nature 🌱♾️✨
Over 3,000 subscribers
The Deception of Deep Sea Mining
voting for conservation in Ecuador.
Dear earthlings,
Have you heard of deep sea mining? Recently, the International Seabed Authority held important talks in Jamaica, discussing the future of our oceans. We decided to look into who was behind the big push of another destructive industry. Read our story below!

🗞️ In Climate News
Thanks for reading eco-nnect ! Subscribe for free to receive new posts and support our work.
📈 Cool Trends
♾️ eco-stories
The International Seabed Authority (ISA) was founded in 1994 as an autonomous organisation established through the implementation of Part XI of the United Nations Convention on the Law of the Sea (UNCLOS). It became operational in 1996 to safeguard what we know as the "deep sea" — an area considered the "common heritage of all mankind" — by protecting the ecosystems of the seabed, ocean floor and subsoil in areas beyond national jurisdiction. The ISA's focus includes controlling the development of deep sea mining, which was debated last month through two of the five arms of the ISA, the Council and the Assembly.
On July 21, the ISA Council concluded two weeks of intense negotiations. Discussions were focused on a deep sea mining code, which was not agreed nor adopted. The mining industry interested in the sea floor were hopeful of starting their operations this year. This was led by one of the attendees, The Metals Company, who was sponsored by the Government of Nauru in creating the Nauru Ocean Resources, Inc. (NORI). NORI has engaged in comprehensive research of seabed rocks, or polymetallic nodules, which they say are packed with cobalt, copper and nickel, and could power 280 million electric vehicles. 
🌏 The Culture Club
📺 What we're watching:
📸 Profile of the week: @look_down_action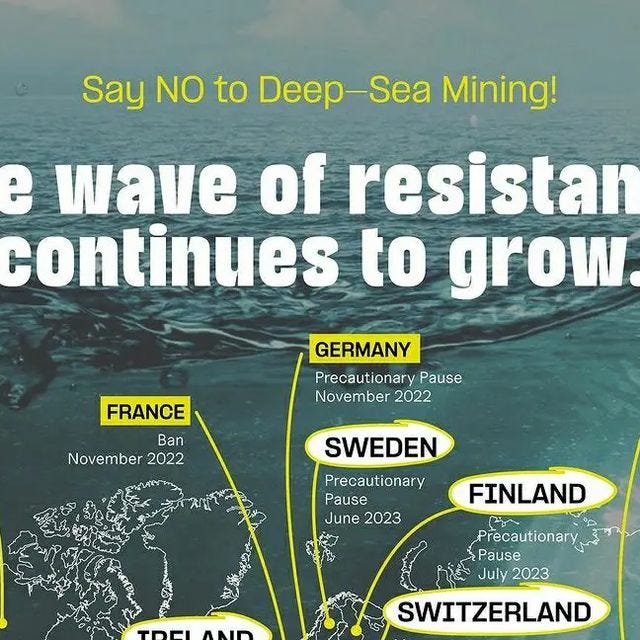 Look Down Action on Instagram: "Seven new countries have joined the fight against
#DeepSeaMining
: Switzerland, Sweden, Ireland, Canada, Brazil, Finland and Portugal 🇨🇭 🇸🇪 🇮🇪 🇨🇦 🇧🇷🇫🇮🇵🇹 The future of the deep sea now hangs in the balance as ISA meetings continue this month in Kingston, Jamaica. 🇯🇲 We are on a good path, but we need you for the final push ⬇️ Head to our link in bio to ask the remaining governments to
#StopDeepSeaMining
! 🔥 Let's
#StopDeepSeaMining
🧜‍♂️ 🗺️ credits for the amazing map & graphic:
@theoxygenproj
"
📚 What we're reading: Women Who Run with the Wolves, Clarissa Pinkola Estes
🤯 Scary fact we learnt this week: Global heating likely to hit world food supply before 1.5C, says UN expert.
Thanks for reading eco-nnect ! Subscribe for free to receive new posts and support our work.